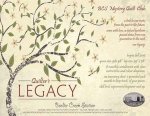 A mystery quilt is just that...a mystery to you. So how do you select fabric for a project that you can't see? Well, we have pre-selected from two lines of fabrics by Moda that will have two separate looks - one more warm, traditional with 3 Sisters fabrics 'Mille Couleurs"; and a fresh contemporary look with BasicGrey's 'Mon Ami'.
To keep you on the edge of your sewing chair, this pattern provides instruction for two generous sizes. Choose the size of quilt that you wish to make and follow the instructions for that particular size throughout the pattern.
Lazy Lap finished size: 59" x 77"
Quaintly Queen finished size: 98" x 98"
The cost of the Lazy Lap, including the pattern is $135.00
The cost of the Quaintly Queen is $193
To purchase, click
here
.