About Our Shop

Quilts Plus is a family owned and operated quilt shop located in Kalamazoo, Michigan. We've been in business for over 20 years. Our store is buzzing with activity. You'll find many quilts on display plus thousands of bolts of 100% cotton fabric, quilting books, patterns and supplies. We conduct classes every day and most evenings for quilters of all levels, from beginners to advanced applique artists. Click here to take a peek into our shop.

We hope you'll spend a while enjoying our site. Visit our patterns and kits pages for a great variety of choices. See our What's New page for information about current and upcoming events, specials and sales. Sign up for our newsletter to receive the latest information about new products and events. Our Fall (October through December) Class Schedule is now online and class sign-ups are underway.

We'd love to have you visit us when you're in Kalamazoo.

WOOLY BLOCK ADVENTURE BEGINS MONDAY, OCTOBER 16, 2017
CLICK HERE to purchase KIT.

CLICK HERE to purchase PATTERN ONLY.

CLICK HERE to purchase VALDANI PEARL COTTON KIT.

What is the Wooly Block Adventure? It is similar to Row by Row held during the summer in the way it works. One big difference...you will be able to purchase our block online!
Just CLICK HERE beginning Monday, October 16th through December 15th to purchase our kit and pattern for $20.00. CLICK HERE to purchase our pattern (download) for $5.00. CLICK HERE to purchase the 5 pack of Valdani Perle Cotton used in our kit for $26.25.
We will be giving away a free pattern for our block if you come into our store.
Prizes consisting of one wool fat quarter (16" x 16") and one $25.00 gift certificate will be awarded to the first customer who brings in a completed project(s) December 16, 2017 through February 15, 2018. Completed project(s) include stitched appliques, project backed and labeled, such as table runners, pillows, wall hangings, bags, etc. using 8 different patterns from at least 8 different Wooly Block Adventure participating shops. Customer must also bring copies of patterns to present as verification. A special prize will be awarded if the finished project(s) include our block.
PORTAGE LAKE BY MINICK & SIMPSON FOR MODA HAS ARRIVED!!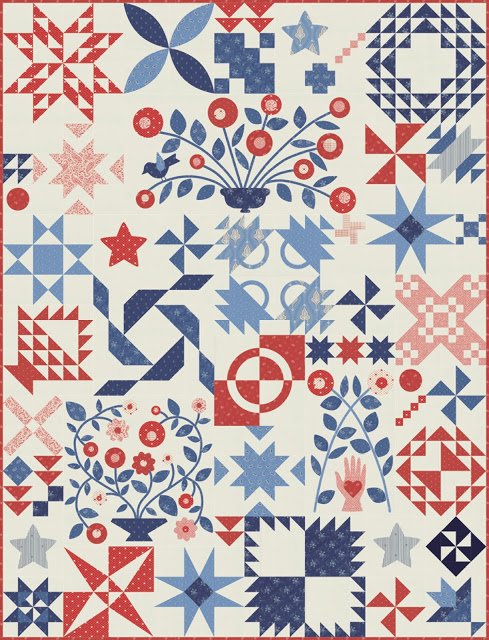 We are excited to announce the arrival of Portage Lake by Minick & Simpson for Moda!! This quilt kit is beautifully packaged by Moda in a box that is so attractive you will want to save it! We have a limited number of these kits available, so act soon!
Click here to purchase!